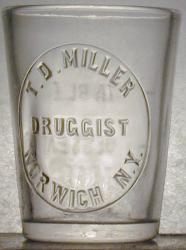 1880 Census: Thomas D. Miller
age: 39 born about 1841 in New
York.
Occupation: Merchant
Home in 1880: Norwich,
Chenango Cty., N.Y.
Wife: Love E. Miller Age: 35
Househol Members:
Head: Abraham Thomas Age: 80
Son: George A. Thomas Age: 32
Wife: Anaville Thomas Age: 70
Son in Law: Thomas D. Miller Age:
39 "Merchant"
Daughter: Love E. Miller Age: 35

1910 Census: Theodore D. Miller
age: 72 born about 1838 in New
York.
Occupation: Secretary Pharmacy
Widowed
Sister: Emma J. Allen Age: 69

Frank Miller was born in Essen, Germany, in 1859, and emigrated to this country in 1878, his parents having preceded him. He had served an enlistment in the German army. The
family settled at Brunswick, Ga., where Frank Miller followed his trade as tinsmith. He removed to Ogdensburg, N. Y., in 1894, and five years later was married to Miss Elizabeth
DuBrule. They were the parents of the following children: 1. Lionel Francis, the subject of this sketch. 2. Emil M., born in 1892, engaged in the real estate and insurance business, at
Rochester, N. Y. 3. George B., born in 1899, died at Saranac Lake, Oct. 2, 1928.
Lionel Francis Miller attended the public schools of Saranac Lake, being graduated from high school in 1906. He was employed for two years in a local drug store, after which he
entered the New York College of Pharmacy in New York City. After his graduation from that institution Mr. Miller returned to Saranac Lake and was employed as a pharmacist in the
Kendall pharmacy until Aug. 1, 1917, at which time he established his present business.
On Oct. 2, 1912, Mr. Miller was united in marriage with Miss Bertha Goldsmith, the daughter of Aaron Goldsmith, for many years the proprietor of a department store at 44 Main
Street, Saranac Lake. He died in 1930. To Mr. and Mrs. Miller were born three children, one of whom died in infancy. Their sons are: Lionel Francis, Jr., born May 24, 1915; and
Hubert G., born Feb. 24, 1918.
Mr. Miller is a Democrat, a member of St. Bernard's Catholic Church, and belongs to the Knights of Columbus and Elks Lodge.
The family lives at 7 Prospect Street.

SARANAC LAKE PHARMACIST DIES

Lionel Miller, 84, pharmacist in Saranac Lake for more than 36 years, died Monday of last week at his home. A native of Brunswick, Ga., he went to Saranac Lake as a youth with
his parents, and was graduated from the Albany school of pharmacy. For 20 years he operated his own pharmacy and for 15 years was pharmacist at the Hotel Saranac
pharmacy. He was a member of the Elks, Knights of Columbus, and the Holy Name society. Surviving are his wife, and a son Capt. Hubert Miller, now in France.

1900 Census:

Name: Frank Miller

Age: 41

Birth Date: Jan 1859

Birthplace: Germany

Home in 1900:
Harrietstown, Franklin, New York

Immigration Year: 1882

Relation to Head of House: Head

Spouse's Name: Elizabeth Miller

Father's Birthplace: Germany

Mother's Birthplace: Germany

Occupation: Tinsmith
View on Image

Household Members:
Frank Miller 41
Elizabeth Miller 37
Lionel Miller 10
Emil Miller 8
George Miller 6/12

NY-Saranac Lake

L.F. Miller Pharmacy 4 Broadway Corner Main St. Saranac Lake NY
(etched} {T3}
C1341E5-23

1920 Census:

Name: Lionel Miller

Age: 30

Birth Year: abt 1890

Birthplace: Georgia

Home in 1920:
Saranac Lake, Franklin, New York

Spouse's Name: Bertha Miller

Father's Birthplace: Germany

Mother's Birthplace: Canada

Occupation: Proprietor Drug. store.

Household Members:
Lionel Miller 30
Bertha Miller 31
Lionel Miller 4
Herbert Miller 1

Malone
R. MC G. Miller Druggist Malone NY
{small}
C1572-S14-39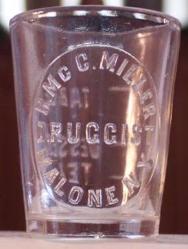 1880 Census:
Name: R . Mc C. Miller
Age: 36
Birth Year: abt 1844
Birthplace: Ireland
Home in 1880:
Malone, Franklin, New York
Relation to Head of House: Head
Spouse's Name: Sarah A. Miller
Father's Birthplace: Ireland
Mother's Birthplace: Ireland
Occupation: Drugest
Head: R. Mc C. Miller 36
Spouse: Sarah A. Miller 32
Daughter: Mary F. Miller 3

NY-Norwich
T.D. Miller Druggist
Norwich N.Y
{small} W.T. & Co. S
C1502-S3-93