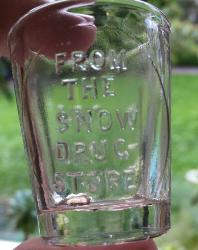 Maverick
From The Snow Drug Store
C1572-S8-76

The Era Druggist's Directory of the
United States, Canada, ... - Page
30books.google.com › books

1916FOUND INSIDE - PAGE 30
Snow's Drug Store Tampa, Florida
Ross & Jefferson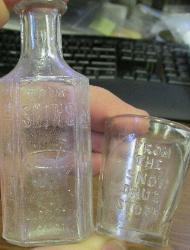 Here is a very nice clear glass, blown in
mold (BIM) drug store pharmacy bottle with
matching Dose Glass, both from the same
pharmacy.
Bottle: approx 3.625" tall, one
ounce size, embossed on front: From /
Snow's / (picture of Mortar & Pestle with
Drug Store embossed inside) / Ludington /
Mich.
Dose glass is approx 1.875" tall and
embossed in slug plate on front:
From The
Snow Drug Store
.
Embossed on back: Table
/ Dessert / Tea.

ame: Sam M Snow
Age: 60
Birth Year: abt 1860
Birthplace: Pennsylvania
Home in 1920: Ludington Ward
2, Mason, Michigan
Street: E Ludington Ave.
House Number: 508
Residence Date: 1920
Race: White
Gender: Male
Relation to Head of House:
Head
Marital status: Married
Spouse's name: Eva J Snow
Father's Birthplace: England
Mother's Birthplace: England
Able to Speak English: Yes
Occupation: Druggist
Industry: Own Shop
Employment Field: Employer
Home Owned or Rented:
Owned
Home Free or Mortgaged: Free
Able to Read: Yes
Able to Write: Yes
Neighbors: View others on
page
Household Members:
Name Age
Sam M Snow 60
Eva J Snow 57
Samuel A Snow 27
Ellen A Sedlander 24

1920 Census
Name: Floyd R Snow
Age: 28
Birth Year: abt 1892
Birthplace: Kansas
Home in 1920: Tampa Ward 5,
Hillsborough, Florida
Street: Taimer
Residence Date: 1920
Race: White
Gender: Male
Relation to Head of House: Son
Marital status: Single
Father's name: Fred A Snow
Father's Birthplace: Ohio
Mother's name: Alice E Snow
Mother's Birthplace: Ohio
Able to Speak English: Yes
Occupation: Druggist
Industry: Drug Store
Employment Field: Wage or
Salary
Able to Read: Yes
Able to Write: Yes
Neighbors: View others on
page
Household Members:
Name Age
Fred A Snow 58
Alice E Snow 59
Floyd R Snow 28
Lydia Snow 87
Sharon Porterfield 40