Riter Brothers Logan City, Utah

2"
2 Table-8 Tea
White Lettering
Bergseng Collection
Traded Off

{Michael Miller collection}

Going back to earlier commercial times we find Dr. O. C. Ormsby, a young physician just graduated from the Rush Medical College,
struggling in the confined limits of Brigham City. On invitation he came to Cache Valley, locating at Logan with a small stock of drugs.
Bishop Peter Maughan, who had often stopped with his wife's father—Judge Samuel Smith—in going to and from Salt Lake City, was
the only prominent man from whom he could, by reason of even a brief acquaintance, expect encouragement to east his destiny in the
north. But the merest accident threw him in contact, in the very onset, with a young man of about his own age, who, like himself, being
progressive and hopeful, persuaded him to come to Logan and grow up with the country.

The Doctor came, and soon gaining a good practice, built up a nice trade and founded the " Pioneer Drug Store," which continued his
own until about 1878, when the firm became Ormsby and Kiter, Ben Riter, William Riter's brother, of Salt Lake City, removing to Logan,
became the Doctor's working companion. Of late years the business has been owned by Piter Brothers—William and Ben—the latter
being the efficient and accommodating manager. The firm has now the leading drug business of Cache Valley. They wholesale as well
as retail, and are located in a fine fireproof building on the main street of Logan City.

1906 Preston, Idaho
1903-1912 Montpelier, Idaho
{William & Ben Riter}

Logan, Utah Pioneer Drug Store Dr. O.C. Ormsby untill-1878
Ormsby & Riter 1878- {Ben Riter}
Riter Bros. {Ben Riter the efficient and accommodating manager.} The firm has now the leading drug business of Cache
Valley. They wholesale as well as retail, and are located in a fine fireproof building on the main street of Logan City.

Riter Brothers Drug Company (1891-1929) which had outlets in
Logan, Garland and Smithfield, Utah
and

Franklin, Preston and Montpelier, Idaho
Logan Metropolitan Area
Cache County, Utah
|
Franklin County, Idaho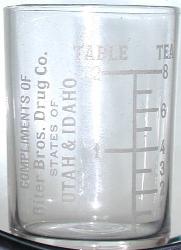 Here are four(4) original photographs of the Riter Bros Drug Co. nee Pioneer Drug, a landmark on Logan, Utah's Main Street for many
years...Circa 1900-1928 on these 3.5" x 5" b/w photos...Exterior and interior on these industrial shots...Building evolution...There is a
shingle up for Dr. O.C. Ormsby a surgeon who founded Logan's first drugstore in 1878..he later partnered with B.F. Riter and then in 1891
it became the Riter Bros. Drug Company if I have my chronology straight...The Riter Bros operated a retail chain throughout northern Utah
and southern Idaho until 1929